Clinical Director / MOH accredited Specialist in Orthodontics
Clinical Director / Principal Dental Surgeon
Dr Kelly Clare Wong (黄恺莉医生) graduated from the National University of Singapore with a Bachelor of Dental Surgery.
During the course of her undergraduate studies Dr Kelly attained Dean's List for multiple years and was awarded with numerous accolades:
NTUC Denticare Medal (Best Student with Distinction in Biochemistry)
Singapore Dental Association Medal (Best Student with Distinction in Medicine)
Loh Fun Chee Medal in Clinical Dentistry (Best Student with Distinction in Clinical Dentistry)
TP Dental Surgeons Medal (Best All Round Final Year Student)
Upon graduation, Dr Kelly worked in NHG Polyclinics, School Dental Service, and National Dental Centre, where she gained valuable experience treating patients with a wide range of dental health conditions. She also served as the Dental Officer In-Charge during her years working at National Dental Centre. She enjoys interacting with patients of all ages and helping them understand their oral condition better.
Dr Kelly is passionate about service and giving back to the dentistry fraternity and community at large. She serves as a part-time clinical tutor at the National University Centre of Oral Health (NUHCOS) and volunteers in dental/medical mission trips to service underprivileged communities in Asia.
In her personal time, Dr Kelly enjoys yoga, hiking, and cross-stitching.
Associate Dental Surgeon (Postgraduate Training in Orthodontics)
Dr. Tasneem Rangwala is an American-trained Dental Surgeon who has relocated to Singapore with her family. 
She received her specialist training in orthodontics from Albert Einstein College of Medicine, and is an American board-certified Orthodontist in USA.
A native of Philadelphia, she attended the University of Pennsylvania for her undergraduate degree. She then graduated at the top of her class from Columbia University College of Dental Medicine, where she earned her Doctor of Dental Surgery degree. Following dental school, she completed a three-year residency program at Montefiore Medical Center, where she earned a certificate in Orthodontics and Dentofacial Orthopedics.
Prior to relocating to Singapore, Dr. Rangwala worked in private practice for 10 years in Austin, Texas and New York City. 
Dr. Rangwala's education includes:
University of Pennsylvania (Philadelphia, PA, USA) – Bachelor of Arts (BA)
Columbia University College of Dental Medicine (New York, NY, USA) – Doctor of Dental Surgery (DDS)
Montefiore Medical Center (Bronx, NY, USA) – Certificate in Orthodontics and Dentofacial Orthopedics
Dr. Rangwala regularly attends continuing education courses to learn the latest advances in orthodontics and dental technology. She is an active member of the following professional organizations: 
American Board of Orthodontics
American Association of Orthodontists
Singapore Dental Association
Dr. Rangwala is passionate about creating beautiful and healthy smiles for people of all ages – both children and adults.
Dr. Rangwala is an experienced provider for:
Traditional braces, including both metal and ceramic ("clear") braces
Invisalign
Early treatment for growing children
Surgical orthodontics
Dr. Rangwala will customize orthodontic treatment for the needs and lifestyle of each person to achieve the best possible smile and is dedicated to providing the highest quality of care. She takes pride in making each person's orthodontic experience memorable and would be honored to be a part of your journey.
Outside of the office, Dr. Rangwala enjoys long-distance running, traveling, and spending time with her husband and young daughter.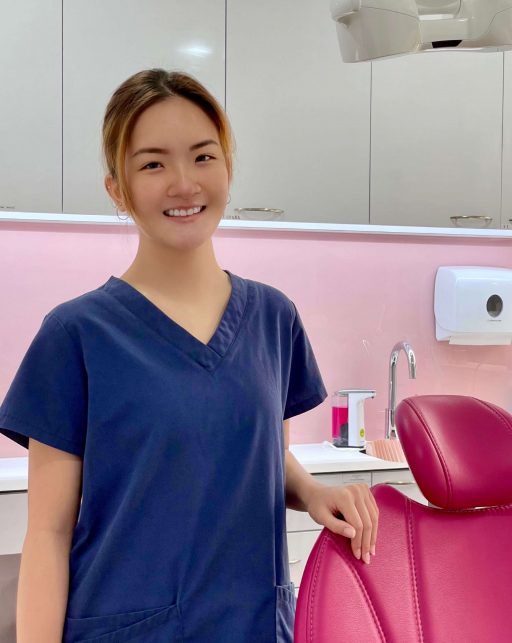 Dental Hygienist / Therapist
Sherlyn earned a Diploma in Oral Health Therapy from Nanyang Polytechnic, and is currently pursuing a Bachelor of Banking and Finance degree from the University of London.
Having trained in National University Centre for Oral Health (NUCOH) and worked in the private sector, Sherlyn appreciates interacting with patients from all walks of life. She is dedicated to offering patient-centred clinical practises and providing gentle and meticulous treatments for her patients.
Sherlyn enjoys working with children and is always looking for new ways to make the dentist visit engaging and fun.
As a member of the Association of Oral Health Therapist (AOHT), she actively seeks to increase her knowledge in order to better serve her patients.
Sherlyn spends her free time taking dance lessons, travelling, and seeking out the latest food trends in town.
Clinic Operations Manager
Yvonne is a friendly and familiar face in TLC Dental Centre. She has been in the team for over 8 years. She is committed to helping all patients to ensure that their experience in the clinic is smooth and enjoyable.
Outside of work, she enjoys travelling and photography.